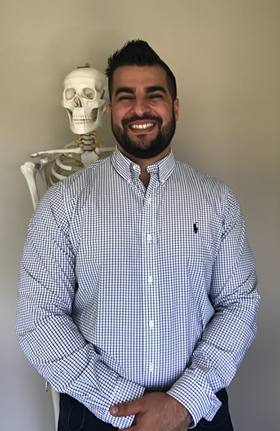 Andrew Charalambous
B. Sc. (Clin. Sc.), M. H. Sc. (Osteo)
B.OccTher
Osteopathy Australia Member
Andrew is a registered Osteopath who is passionate about providing a unique experience for all his patients. A high achiever, Andrew graduated from Victoria University with a Masters of Health Science (Osteopathy) receiving the Osteopathy Australia graduate prize as dux of his year level whilst also receiving the Victoria University Medal of Excellence as the most outstanding postgraduate student.
Andrew is also a registered Occupational Therapist and has been practicing for 10 years in the field of paediatrics. Andrew currently runs his own private practice working within the family home, schools and the community with children diagnosed with Autism Spectrum Disorder (ASD).
Andrew incorporates a number of techniques in his treatment regime which include soft tissue techniques, mobilisation, manipulation and indirect treatments such as BLT (Balance Ligamentous tension) and counterstrain. Andrew is also qualified in Level 1 myofascial dry needling and cupping which adds another treatment option for his patients.
Outside of work Andrew keeps himself busy by keeping fit and healthy. Andrew goes to the gym at least 5 times a week and enjoys the occasional game of indoor cricket.
Andrew can proficiently treat any type of musculoskeletal complaint including back pain, sciatica, neck pain, headaches, joint pain and sports injuries through a combination of hands on treatment, advice and rehabilitation.